Reviews
EXIT 13
"...Cuenca, the ostensible leader, serves as the not-so-secret weapon here, mixing a firm, booty-shaking rhythmic righteousness (see the get up and dance groove on "Big Ed") with a percussive sophistication that takes trickier beats to unexpected places." Read More at jazzreview.com >


"Cuenca offers a nice mix of power and restraint, showing that she is one of the finest drum accompanists on the scene today. Her cymbal work is particularly impressive, providing energetic yet unobtrusive color from start to finish." Read More at allaboutjazz.com >


"This is one of my favorite recordings. I hadn't really heard much organ jazz before I heard this and now I can't get enough of it. Great, fresh, exciting players! Bring on more!" Read More at amazon.com >


---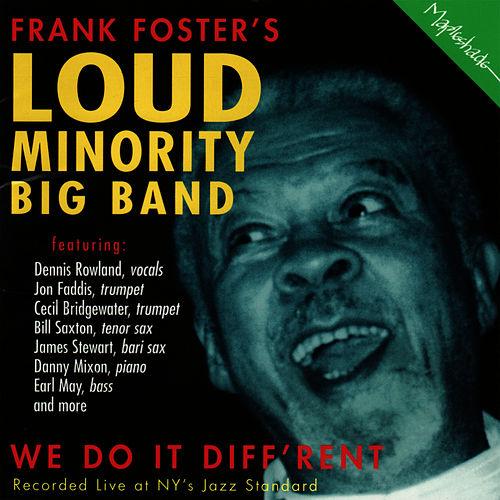 Frank Foster's Loud Minority Big Band: We Do It Diff'rent
By JACK BOWERS
June 25, 2003
Frank Foster's Loud Minority Big Band: We Do It Diff'rent Frank Foster's Loud Minority Big Band is more limber than loud -- although it doesn't shrink from shouting whenever that's appropriate on this persuasive in-concert album recorded in June '02 at NYC's Jazz Standard, when the seventy-three-year-old Foster was recovering from a stroke that immobilized his left arm and left leg and limited his role to that of emcee. As one would expect from an old hand who joined the Count Basie Orchestra half a century ago and fronted the band for nine years (1986-95), Foster salutes the Count's buoyant spirit in almost every way save repeating well-traveled numbers from the Basie book (with one exception, his classic "Shiny Stockings," handsomely renovated for the occasion). Foster's other originals ("G'on an' Git It Y'all," "Fos' Alarm," "Cecilia Is Love," "Skull-Doug-Ery") were written especially for the seven-year-old Loud Minority ensemble. Completing the program are four standards ("Stella by Starlight," "Lover," "You Go to My Head," "Where or When") and one blues, "Wild Women Don't Worry," the last three featuring the seductive baritone of special guest and ex-Basie vocalist Dennis Rowland.
Foster's other guest, trumpeter Jon Faddis, shakes the rafters on "Wild Women" and "Cecilia," and trumpeters Jeremy Pelt and Cecil Bridgewater glisten and glow on "Stella" and "Stockings," respectively. Baritone saxophonist James Stewart is showcased on "Fos' Alarm," tenor Bill Saxton and drummer Sylvia Cuenca (a last-minute replacement whose forceful timekeeping earned her a permanent gig with band) on "Lover," tenor Keith Loftis on "Skull-Doug-Ery," while pianist Daniel Mixon has a number of engaging ideas to impart on "G'on an' Git It," "Cecilia," "Skull-Doug-Ery" and (uncredited) "Shiny Stockings." There are some other minor errors on the playlist, with trombonist Clark Gaton listed as trumpet soloist on "G'on an' Git It," trumpeter Derrick Gardner as trombonist on "You Go to My Head," Rowland as vocalist (he's not) on "Shiny Stockings."
Echoing Basie's philosophy, Foster writes that "you can't keep a band of brilliant players together and burning without challenging them with a constant stream of fresh new music." Let's hope that Foster keeps challenging the Loud Minority for years to come.
Personnel: Frank Foster, leader, arranger; Bruce Williams, Joe Ford, alto sax; Bill Saxton, Keith Loftis, tenor sax; James Stewart, baritone sax; Frank Greene, Derrick Gardner, Kenyatta Beasley, Jeremy Pelt, Cecil Bridgewater, trumpet; Vincent Gardner, Clark Gaton, Stafford Hunter, trombone; Bill Lowe, bass trombone, tuba; Daniel Mixon, piano; Earl May, bass; Sylvia Cuenca, drums.
---
Critics Quotes
Riel commends Cuenca's "mix of power and restraint....providing energetic yet unobtrusive color from start to finish." - RIEL LAZARUS

"Sylvia Cuenca is an extraordinary talented percussionist. I think of her as an alert, supportive, versatile and swinging drummer. She sat in with my band 10 years ago and I never wanted her to leave." -CLARK TERRY
"Sylvia has a driving beat, a real team player." -Stuart Kremsky, CADENCE MAGAZINE
"Cuenca is a dynamo....driving the ensemble throughout. She's getting a master's degree in jazz and Clark Terry's got a prize student."
Kirk Silsbee, JAZZIZ
"Sylvia Cuenca, a fiercely swinging drummer..." -Gary Giddens, VILLAGE VOICE
"....on drums sounding like the fiery incarnation of Art Blakey, Sylvia Cuenca was in total, resourceful command of her instrument, trading wit-laced breaks with Clark and driving the horns and the rest of us into a joyousness beyond category and politics."
Nat Hentoff, JAZZ TIMES
"Sylvia swings impeccably and has an authentic feel for the latin genre. When she solos, she does so with imagination and taste."
Alan Chase, SEACOAST JAZZ
"Cuenca's strong playing crackled, her energy a delight to observe as she worked her way around the drum kit." -ST. LOUIS POST
"From the first note, the attack of the whole group was aggressive and cohesive anchored by the crisp drumming of Sylvia Cuenca."
Alyn Shipton, THE TIMES (Birmingham England)
"...a swinging drummer..." -LEWIS BEALE, DAILY NEWS, NY
"Terry exchanged whimsical scatted vocal breaks with equally spirited drum breaks by Sylvia Cuenca." -CHIP DEFFAA, NEW YORK POST
".....with drummer Sylvia Cuenca rounding out the ensemble, Clark Terry had a dream band at his command."
Howard Reich, CHICAGO TRIBUNE
"When you listen to Sylvia you really hear the depth of her knowledge of all the roots and branches of this music. Above all, I urge you to remember that Sylvia Cuenca has arrived and she is fierce!!!" KEITH COPELAND, (Frankfurt, Germany)


About "THE CROSSING"....
"A solid date of straight-forward modern jazz, the kind of tasteful and reliable record that Muse used to issue."
Stuart Kremsky, CADENCE MAGAZINE
"This is a tasteful debut from a very talented musician." -Alan Chase, SEACOAST JAZZ
"The Crossing is her first outing as a leader and it is a very impressive outing. She selected an extremely versatile, virtuosic group of musicians all of whom play magnificently on every track of this CD." -KEITH COPELAND (Frankfurt, Germany)


About "EXIT 13"....
"The splendid EXIT 13 is co-led by Sylvia Cuenca, a powerhouse drummer who has worked with Clark Terry for over a decade. Cuenca made her beat fluid, changing the color of her sound with varying hits on cymbals and drums.Cuenca again supplied essential rhythmic heat."
ZAN STEWART, NEWARK STAR LEDGER
"Drummer Sylvia Cuenca might not be as publicly recognized as other sisters of the skins, but she deserves to be. Equally creative behind a big band (like Frank Foster's Loud Minority) or in a small group context, she is probably best known for her extended association with Jazz master Clark Terry. EXIT 13 finds her in a trio setting with organist Kyle Koehler and guitar veteran Dave Stryker taking care of plenty business timeless. Don't dare let this slip off the radar if you enjoy excellent organ trios."
LARRY HOLLIS, CADENCE MAGAZINE